International studies and research have proven that drying clothes at home, inside closed rooms, and spaces cause severe health damages. Especially in damp and wet weather, drying clothes inside your home can cause lung infections in children and the elderly.
And did you know that several homes are drying clothes in a smarter way by using a Clothes Dryer in India? Yes, It's true! If you're still living with that damp smell of washed clothes at home, we have a solution for you – The Next Generation AMSTRAD Clothes Dryer. We at AMSTRAD would like to introduce you to an easier and healthier alternative to drying clothes inside your home.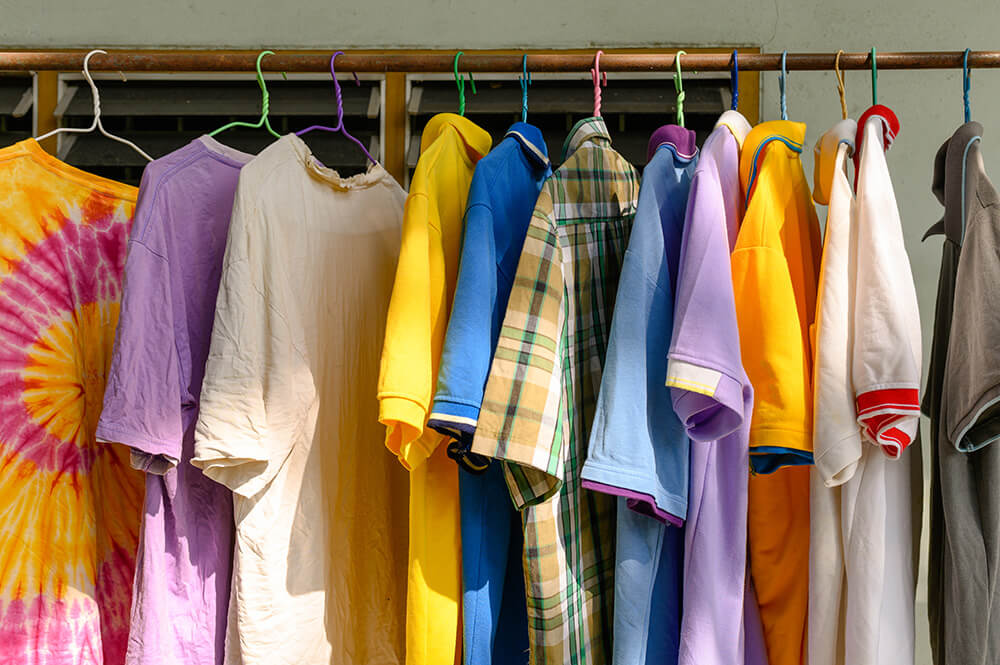 But first, is drying clothes inside your home truly harmful? Let's take a look.
Across India, we get close to four months of rainy weather in any part of the country. Add to that, not every high-rise apartment building or flats have dedicated dry spaces large enough. Smaller cities and towns in India, face this space constraint even more.
So as tradition dictates, most households in India use wind and sunlight on a clothesline or clothes drying rack inside the home. But come monsoon season, many families face that musty smell of damp clothes inside the house.
What happens when you put wet clothes to dry inside your house on clothes drying stands, wall-mounted clothing racks, or ceiling-mounted pulley?
The answer is simple yet scary. You are encouraging an increase of moisture level inside your house and the growth of mould. International institutions such as the Asthma Society of Ireland, the University of NSW, and NHS, UK have been studying the harmful effects of drying clothes inside the house in damp and wet climates.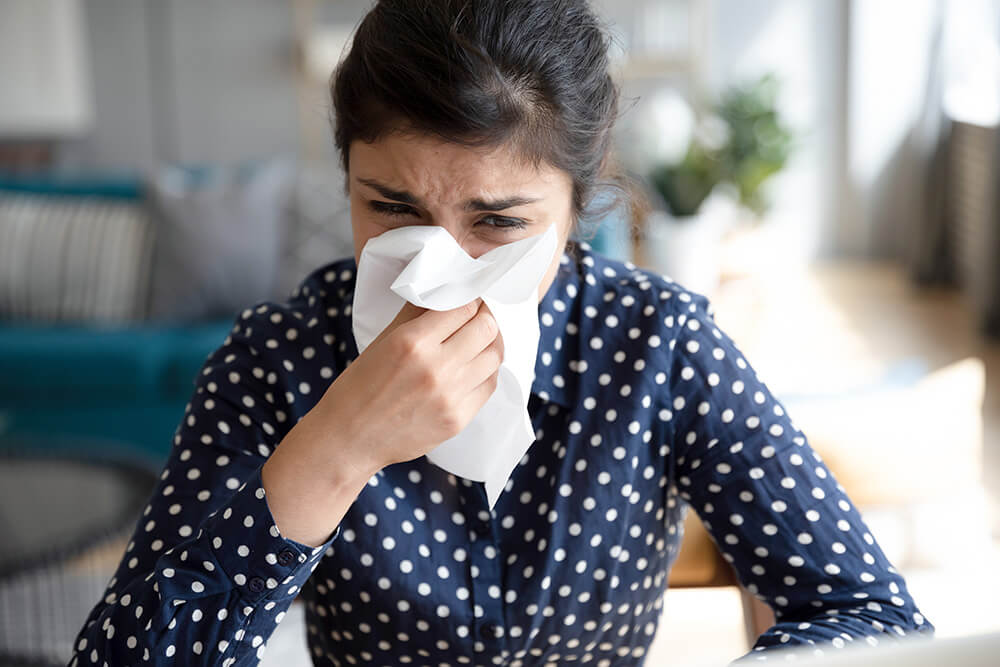 Their studies have all come to conclude the below effects:
Damp clothes attract biological elements – 'spores' which are indoors. These spores increase on wet or damp clothes that are kept to dry, without good ventilation or in airtight dry spaces and bedrooms.
Mouldy spores are the primary cause of allergies, random sneezing, watering eyes, and more. And inhaling them while wearing clothes that aren't dried properly cause grave respiratory issues.
These fungal moulds are tiny minute particles and cannot be seen with the naked eye. Most popularly known as Aspergillus fumigatus spore; it causes serious lung infections.
A humid room and dampness of drying clothes multiply this fungus aggressively. Causing severe effects in Asthma patients and sudden eczema in children, babies, and sometimes even in healthy family members.
Most houses get damp during rains and dust mites love moisture on clothes, walls, floors, and furniture. That is where you get the mouldy and musty smell in your clothes and house from.
During the monsoon, you would notice several allergic reactions triggering randomly among your family members. Sudden wheezing, sneezing, coughing, skin itchiness, and sinus issues are all probably because of this one habit.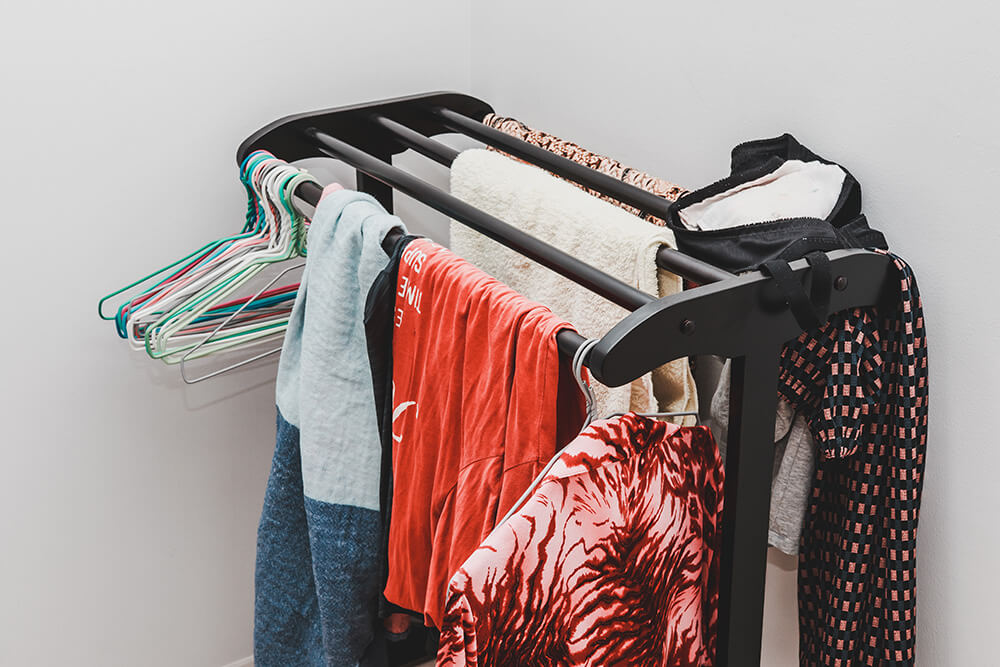 So yes, drying clothes inside your home is harmful to you and your family's health! Stop looking for space to dry your clothes inside your home!
Did you know that when you put one load of washed clothes to dry, it releases nearly two litres of water in your room?
How often have you put slightly damp clothes into your cupboard, despite it hanging out to dry for 2 whole days?
How often have you put off washing curtains and bedsheets in the monsoon?
Too many times is what we have learned from several AMSTRAD customers.
From a smart
front load washing machine
to a quick clothes dryer to
smart irons
– AMSTRAD brings you 360-degree intelligent laundry solutions!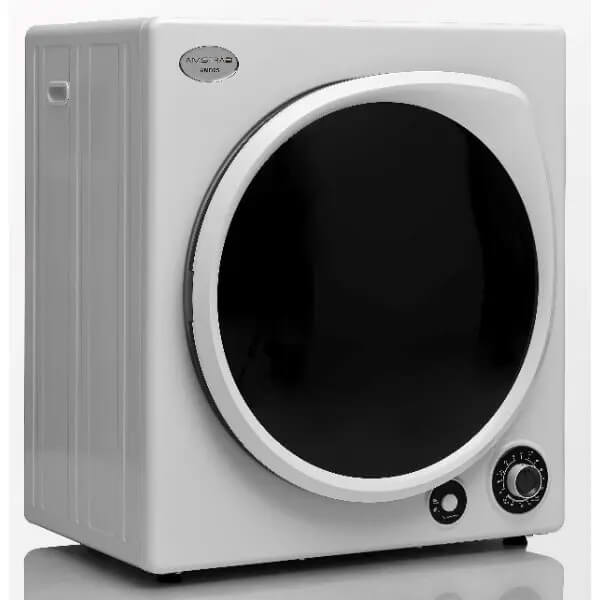 AMSTRAD Clothes Dryer – 6 KG Load
Now dry everything from ornate heavy curtains to sofa covers to Turkish towels and bedsheets quickly and easily. All with the next generation AMSTRAD CLOTHES DRYER!
Unlike the common bulky clothes dryer in India, AMSTRAD's Clothes Dryer is compact. It fits comfortably above your AMSTRAD front-load washing machine. It's so easy – simply remove the clothes from the machine and put it into the dryer. 60 minutes later your clothes are mould-free, germ-free, and completely dry, ready-to-wear!
Get dust-free, warm and dry clothes, at the touch of one button, any time of the year!
A controlled heat temperature drying of clothes ensures that mould, germs, and dust are completely eliminated from your clothes.
AMSTRAD incorporates innovative PTC heating technology to dry clothes!
AMSTRAD Clothes Dryers controls the water temperature perceptively, so your clothes get a warm and cool drying at the same time! AMSTRAD's dynamic heating technology (PTC) ensures clothes dry equally and efficiently.
Efficient clothes dryers consume lesser energy!
AMSTRAD is committed to being green and energy efficient to ensure a better future for the next generation! AMSTRAD's clothes dryer comes with a high-volume drum of 6 kg in one drying cycle. Save energy by running a single large load and fewer drying cycles.
All dark colours fade while drying in the sun! Not clothes dried by AMSTRAD.
Did you know UV rays of the sun dulls out the colours of your clothes; especially vibrant hues? AMSTRAD next-generation dryer protects the colour of your clothes with a gentle drying system.
All-Weather Clothes Dryer in India!
AMSTRAD clothes dryer gives you warm, toasty dry clothes all year round! No more storing damp clothes into your cupboards, worrying about your jeans not drying, or having clothes hanging all-around your apartment! And no more lining your clothes across balconies, exposing clothes to the harsh summer sun or dusty polluted winds!
AMSTRAD Clothes Dryer delivers quick and easy drying. From pricing the dryers cost-effectively to offering a complete hygienic laundry solution; AMSTRAD keeps it REAL. Clothes are now 100% dry inside the home without dust mites, germs and allergies.
GET REAL. GET AMSTRAD.