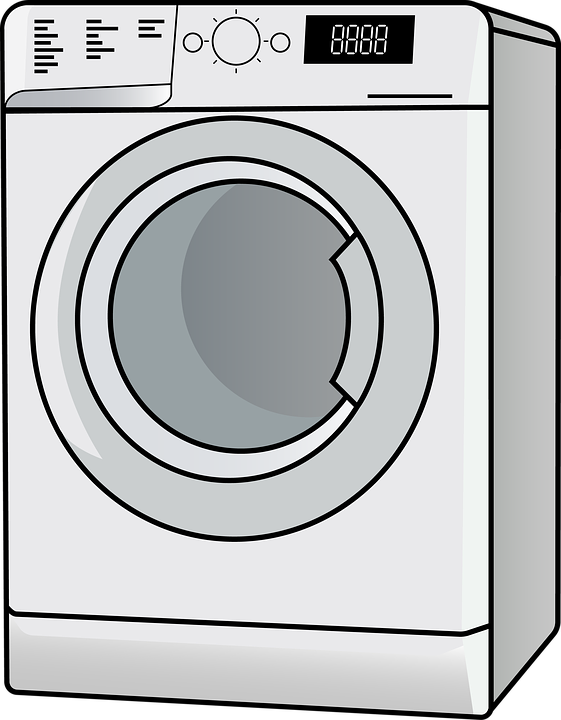 Buying a washing machine might be slightly heavy on the pocket but the comfort and ease they offer definitely make them worthwhile. Washing machines have not only saved us from the drudgery of washing clothes by hand, they have helped us save a great deal of time and effort too!
Buying a washing machine used to be as simple as choosing between fully automatic or semi-automatic. However, modern-day washing machines come with a variety of features that have redefined the idea of washing clothes at home.
Do you find yourself in a fix every time you look at the range of washing machines available today? Are you not aware of the features and technology you should look out for? Do you get cold feet every time you try to pick a washing machine based on your needs?
Finding a model that befits your needs, requirements and budgets might not be an easy task. For the same reason, we've compiled a list of things you should consider before buying a washing machine. These 7 things will make your shopping experience easier, faster and more efficient.
1) Types of Washing Machine
There are two types of washing machine available today: fully automatic and semi-automatic. The most basic difference between these two types is that semi-automatic washing machines come with two tubs-while one is meant for washing, the other is for drying. This type of washing machine requires manual intervention as well because you're required to shift the clothes to the dryer once they are washed.
As the name suggests, fully automatic requires no manual work whatsoever. Load your clothes in the washing machine and you can forget about it until the machine notifies you about the completion with a sound.
Let's look at a few more features of these two types:
Semi-Automatic Washing Machine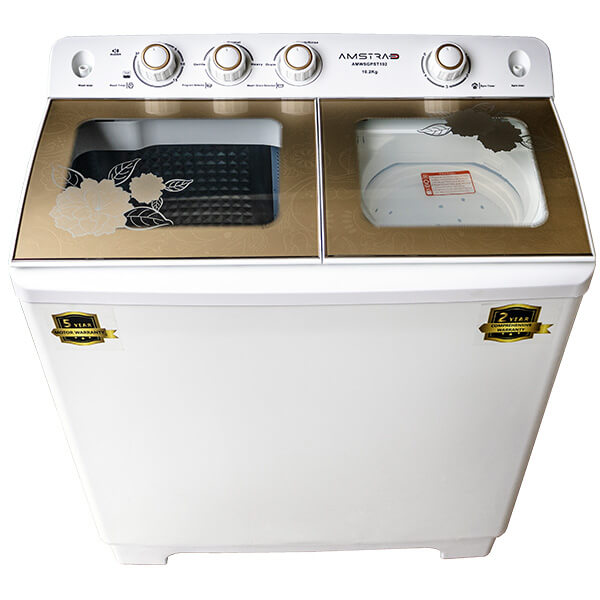 You can pause the machine to scrub off extra dirt from your clothes
Semi-automatic washing machines consume lesser power
They are easy to repair
They are cheaper and consume more water as semi-automatic washing machines don't regulate the water as per clothes load. Water load is left to the user's discretion.
Fully Automatic Washing Machine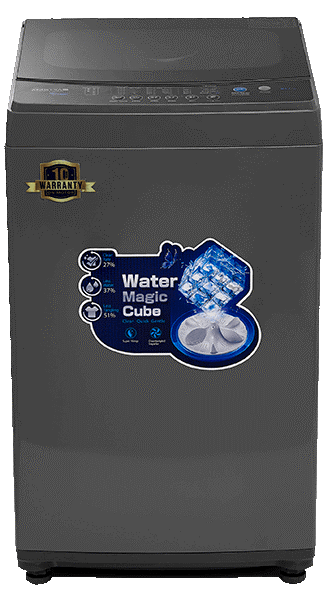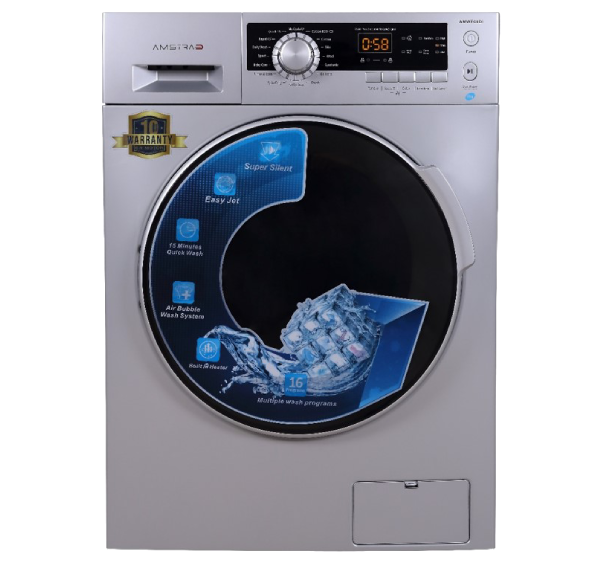 – Fully-automatic washing machines occupy less space
– They offer flexible wash cycles like washing, rinsing and drying with custom modes designed to wash different types of fabric
– You can avoid the noise by programming the machine to commence the wash cycle when you're not at home
– They are highly durable
– They consume less water
Amstrad's Next Generation Washing Machines offer a wide range of semi-automatic and fully automatic models. Make sure you pay attention to the features of each before you pick the best fit for your clothes.
TIP: If you want to save yourself from the hassle of drying clothes after every wash, it is advisable to get your hands on Amstrad's Clothes Dryer. This compact appliance offers 100% drying, keeps your clothes germ-free, and can be installed on your washing machine itself.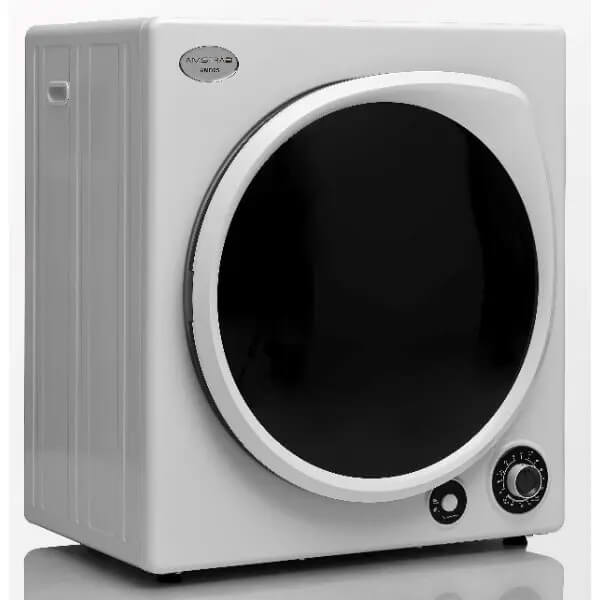 2) Top Load or Front Load
There are two main styles available for washing machines-top load and front load. The simplest way to differentiate between these two styles is the placement of the door. As the names suggest, top load requires the clothes to be loaded from the top while front load has the door in front or on one side of the machine.
A few other differences that you should look out for:
Structure- Unlike the top load units, a front load washing machine contains no agitator and uses paddles on the side of the drum. Agitator is a large central post with wide rubber fins that spins in a quick and stumbling manner during a wash cycle. This agitator can catch stray threads and lead to wear and tear of clothes.
This implies that the front load washing machines are gentler on your clothes than the top load ones.
Energy Consumption- Front Load Washing Machines consume a little less energy than front load models. This is because front load units can wash more clothes in one cycle.
Water Consumption– Front Loaders consume the least amount of water. Hence, it is advisable to go for front-load washing machines. Fully automatic top-loading machines require a larger quantity of water.
Space-This completely depends on the space you have designated for your washing machine. If you want to fit it under a cabinet or a kitchen platform, you should go for the front-loading unit as it occupies less space. Top loading machines require more space.
Capacity- These two styles of washing machines are available in various capacities. Your choice should depend on the number of clothes you wish to wash in your machine.
Cost-Front Load Washing Machines require a heavy expenditure. Top loading machines are cheaper for any given capacity.
3) Select the right size and capacity
Before you set out to buy a washing machine, check the size and capacity of the washer tub. It is important to understand the maximum weight of clothes your machine can support per cycle. This usually ranges from 5-10kg per cycle.
The easiest way to figure out if you need a machine with a larger capacity? Ask yourself what type of clothes you intend on washing in the machine. If you're looking to wash bed covers, comforters and other upholstery of the house, it is prudent to go for a machine with a large capacity.
4) Material of the washing tub
Another important thing to note before buying a washing machine is the material of the washing tub. Typically, the tub is made of stainless steel, toughened plastic or porcelain enamel. Considering that enamel rusts and chips, plastic is a better option. However, if you want to pick the best, stainless steel is undoubtedly the best material for tubs.
It offers more durability and lasts as long as the machine itself. Needless to say, they are stronger than plastic tubs and can tolerate high spin speeds as well. Also, stainless steel drums are more energy efficient.
For the same reason, Amstrad Washing Machines come with a stainless steel drum so that your clothes are washed in the best!
5) Wash Programs
What if your washing machine washes silk with the harshness it uses for jeans or other denim wear?
Fret not as wash programs are meant to help you with just that! Wash programs save you from random guesswork by suggesting a suitable wash program for different types of clothes and fabrics.
Needless to say, delicate fabrics like silk need to be washed with utmost care to avoid harsh wear and tear. Similarly, soiled clothes require extra rinsing so that the stubborn stains can come off easily.
In order to ensure that every fabric is dealt with and washed in the required manner, Amstrad's Front Load Fully Automatic D Series and Amstrad's Top Load Fully Automatic Washing Machines come with 23 wash programs and 8 wash programs respectively. These two programs wash your clothes based on the type of fabric, garment load, dirt level etc. and are specifically designed to suit Indians' requirements of washing.
Amstrad's Front Load Fully Automatic Washing Machine Di Series also offers a 15-minutes quick wash. This wash cycle is suitable when you want to frequently wash your clothes quickly, efficiently and conveniently.
Some washing machines also offer a 'Time Delay' program so that you can load the clothes in the machine and set the program to begin the wash cycle according to your preferences. Amstrad's Automatic Washing Machines offer 'Upto 24 Hours Delay' program which allows you to delay your wash cycle between 1-24 hours. So, set the time and get super fresh clothes whenever you want!
6) Safety Features
While buying a washing machine, it is extremely important to consider safety features as well. Here are a few things you should look out for:
– Child Lock
– Auto restart
– Over flow control or Water Level Control
– Overheating control
– Rodent Protection or Rat Mesh
– Stability while washing
– Spin Speed Selection
7) Additional or Smart Features
The perks of buying a washing machine today? Innovative features for your comfort and convenience.
Modern-day washing machines have transformed the concept of washing clothes with ground-breaking technologies and features. Let's take a look at a few of them-
Programs like quick wash, bubble wash & one touch wash are designed for added comfort and convenience. Amstrad's Top Load One Touch Series offers a one-touch wash that sets a suitable program and starts the washing process with just the push of a button. Yes, it is that easy!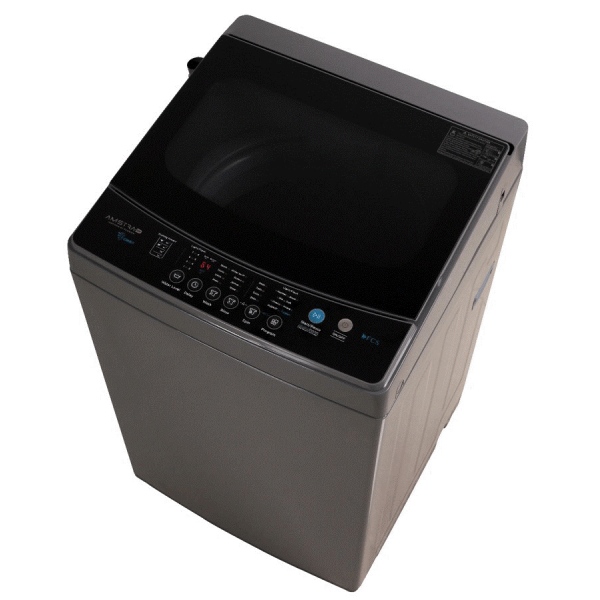 This one makes your washing machine very smart! Fuzzy Logic helps the washing machine select the right wash cycle based on the garment load and dirt. It also makes the washing machine capable of calculating the required amount of soap and water.
i-Clean reduces your washing machine's maintenance by leaps and bounds. This feature implies that the tub cleans itself automatically after every wash cycle.
The annoying 'thud' of washing machine doors will not bother you anymore! Washing machines with a safe, smooth and elegant lid opening are designed to save your fingers from pinching. They also eliminate the sound of slamming.
Magic Cube Pulsator
Magic Cube Pulsators generate large water flows that go to different directions and levels to ensure that your clothes are washed in the best way possible. The magic cube pulsator of Amstrad's Top Load One Touch Series is inspired by the power of whales to increase the washing performance by 10%.
LCD Displays allow you to read the information easily and clearly. They also display additional information like the time left for your wash cycle to complete.
With the wide range of washing machines available today, choosing the right one for your home might seem like a complex task. However, the right knowledge is the prerequisite for buying the perfect washing machine.
We hope the aforementioned pointers have simplified the process of browsing through Amstrad's Laundry Solutions and picking the best washing machine for your clothes.
GET REAL. GET AMSTRAD.